API Guaymas and MSC together to promote the new Cargo Container weekly service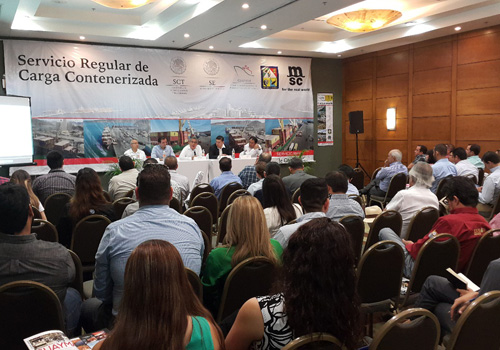 Following the promotional campaign of the Guaymas port in northwestern Mexico, the Port Authority of Guaymas and the shipping line Mediterranean Shipping Company met on 12 June in the city of Hermosillo, Sonora; to advertise and promote the new regular service of containerized cargo which will now be weekly.
Regular service linking the ports of Guaymas to Manzanillo, began in February of 2012 with a service every 15 days. Thanks to the efforts of the Port of Guaymas community, together with the shipping line and customer acceptance, the service is being provided every 10 days streamlined thanks to the demand of clients who requested a more frequent service to get more cargo movement, currently handled and attract new cargo service by such means will every 7 days.
In the event highlighted the participation of authorities such as Dr. Luis Nuñez Noriega, Chief of the Ministry of Economy; Ing. Edmundo Chavez Mendez, Director General of API Guaymas; Lic. Alonso Sopeña, CEO of MSC Mexico; Mr. Adolfo Enriquez Gonzalez Commercial Director of MSC Mexico; and the presence of the representative of Customs, and the representative of SENASICA Guaymas.